&nbsp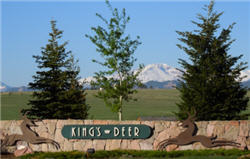 Welcome!
This is the official web site of the King's Deer Homeowners Association. Here you will find information about the association, its activities, events, policies, and some information about the local area.
The King's Deer HOA office is located at the King's Deer Golf Course Golf Course Club House (19255 Royal Troon Drive).
VISITORS! Are you looking for the covenants, Architectural Control Committee forms, or other corporate documents? If so, follow the Library link at left. Minutes and financial reports are available to HOA members in the Library section of the Owner area.
HOA Assessments and Insurance - $320 for 2023
Posted 12/07/22
The annual HOA assessments and HOA insurance billing have been mailed out to all King's Deer property owners on December 1st. The annual assessments continue to be $300, and the HOA insurance is $20 for 2023, for a total billed of $320. Payments can be made by check mailed to the PO box as shown on the invoice. Also for your convenience, there is a secure lock box outside near the door of the HOA office. Sorry that there is no option for credit/debit card payment and also no payments on-line. Many owners use their bank's bill pay feature to make the payment without having to physically write a check. If you choose to use the bill pay feature, please be sure to set up the payment using your property street address (or a significant portion thereof) as the account number. If you have an existing bill payment set up with your bank, please make sure that the amount paid to the HOA is $320 to match the amount that is billed for 2023. Payments are due to the HOA PO mail box or HOA office drop box by January 1, 2023.
Address for mailing check or scheduling bill pay to the HOA:
King's Deer HOA
PO Box 3143
Monument, CO 80132
---
Stage I Fire Restrictions in Unincorporated El Paso County
Posted 12/07/22
December 7, 2022 [9:45 AM]
Stage I Fire Restrictions in Place for Unincorporated El Paso County
Due to the low precipitation we have received, the fairly consistent winds and warmer temperatures, coupled with the frequency of ongoing outdoor fire responses we and our partners in the county are responding to, Sheriff Bill Elder has ordered Stage I Fire Restrictions for all of the unincorporated areas of El Paso County.
These restrictions will be effect until moisture or a good heavy snowfall occurs, which will dramatically increase our moisture levels and/or knock down our flashy fuels (grasses). The Stage I Fire Restrictions shall go into effect December 7, 2022, at noon and the following are prohibited (please reference the attached guideline chart):
Open fire and open burning, except;

Fires and campfires within permanently constructed fire grates in developed campgrounds and picnic grounds, or private residences in areas cleared at least 3' of all flammable materials.
Fires in developed campgrounds and picnic grounds, or private residences contained within liquid-fueled or gas-fueled stoves, fire pits or appliances; liquid propane (LPG), or natural gas; cleared at least 3 feet of all flammable materials, with flames lengths not exceeding 2 feet.
Fires for which a permit has been obtained by the local fire protection district dating after the restriction date.

No use of fireworks and explosive materials, including "exploding" targets or bullets and tracer rounds.
Outdoor smoking except within an enclosed vehicle or building, a developed recreation site or while stopped in an area at least three feet in diameter that is barren of and cleared of all flammable materials. Exercise industry safety practices when welding or operation of an acetylene or other similar torch with open flame always cleared safe area of vegetation and combustibles.
Fire prevention is a community-wide endeavor, and we must all work together to prevent fires.
---
Posting of Annual Meeting Minutes & presentation
Posted 11/16/22
The King's Deer HOA Annual Meeting minutes and presentation are now posted. These documents are located in the Owner area, Library section of the web site (login required). Please contact the HOA office (admin@kingsdeer.org) if you need to reset your login credentials.
The next ACC meeting is December 8th at 5 PM, conducted via Zoom teleconference. Please be sure to submit your applications in on time and schedule your projects accordingly. ACC applications must to be received in the HOA office at least 48 hours (2 full days) prior to the ACC meeting. Email submissions are highly recommended.
The next BOD meeting is scheduled to be held on December 20th, 6:00 PM at the Tri-Lake United Methodist Church (weather permitting).
---
Golf Course Use
Posted 11/15/22
A reminder to all King's Deer residents-
The golf course is privately owned and does not belong to King's Deer HOA. Residents are asked not to walk, snow shoe, ski, sled, walk dogs or participate in any other activity on the golf course. The HOA has many acres of common areas and miles of trails for our residents to enjoy. A map of these HOA owned recreational area is located on the website by following this link. You are also welcome to use the sportfield and adjoining playground area.
Residents are also reminded to stay off the ponds during the winter. Most of these are owned by the golf course and their use during winter is both dangerous and prohibited.
Thank you for your cooperation with our neighbors.
---
ACC Meeting Schedule--November & December
Posted 11/01/22
The Architectural Control Committee meets only one day in November (November 10) and one day in December (December 8). Meetings are conducted via Zoom. Applicants are urged to attend the ACC meeting when your application is reviewed so that if there are any questions or concerns, they can be resolved during the meeting. Also, new construction applications--houses and detached garages--usually require at least two ACC meetings for review before the ACC votes on the final approval. Please plan accordingly if you have an urgent project.
---
Revised HOA Policies
Posted 08/17/22
New Policies
Two new policies have been adopted by the Board of Directors and became effective August 16, 2022. These policies replace the previous policies covering these topics and are now posted to the King's Deer HOA website. The policies are located at https://kingsdeer.org/governance.php Please take a moment to review and familiarize yourself with the revised Covenant Enforcement Policy and revised Collection Policy, as these are applicable to all KDHOA members (owners).
*Please note that these policy revisions were necessary due to new legislation, and the Association is obligated to comply and operate within State Law.
KDHOA Covenant and Rule Enforcement Policy & Procedure
This is the new Covenant and Rule Enforcement Policy & Procedure, adopted by the King's Deer HOA Board of Directors, and effective August 16, 2022. Please note that this policy update was generated in response to legislative change, and the Board and HOA Manager are obligated to operate within compliance of State Law. This is also posted on King's Deer HOA website for easy access. Please review the below, notable points in this policy:
Owners should submit any complaints via writing, meaning email or first-class mail (oral or anonymous complaints are not considered.)
Notice of Violations will be sent via certified mail return receipt requested, as well as first-class mail. Additional notices may optionally be sent via email if one is provided, or by hand-delivery.
Hearings may be requested by owners only when requesting in writing prior to the deadline stated in the notice of violation.
Fines are restricted to $500 PER Violation of the Governing Documents unless the nature of the violation threatens public safety or health.
Administrative Expenses related to the covenant and rule enforcement will be the obligation of the Owner and may be applied to the Owner's account which generated the violation (cost for postage, certified mailing, hand-delivery by process server, cost to translate a document into another language other than English, etc.)
General Fine Schedule. Unless otherwise specified in the governing documents, the following fines may be imposed for each violation of the governing documents occurring within a one-year period:

First violation: $50
Second violation: $100
Third violation: $150
Forth violation: $200

A Notice of Violation may be sent for any first violation. Additional or subsequent violations of the same provision occurring within one year from the date of the first Notice of Violation will be considered repeat or recurring violations, subject to additional fines as set forth above. After the one-year period, any subsequent violation will be treated as a new first violation.
King's Deer HOA Collection Policy and Procedure
A new Collection Policy and Procedure was adopted by the Board of Directors and is effective 8/16/2022. This applies to all members of the HOA. Please see below for a briefing on some notable points in the policy. However, please review and read the policy in its entirety. This document is also posted to https://kingsdeer.org/governance.php
Due Date: The assessment is still due and payable January 1st of each year.
A late charge in the amount of $50 will be imposed on any assessment, fine, or other charge not paid within 30 days of the due date without further notice to the Owner.
Interest at the rate or 8% per annum will accrue on any delinquent assessment, fine, or other charge from the due date without further notification to the Owner.
The HOA reserves the right to record a notice of lien at any time once an account becomes delinquent.
Costs generated by the collection of amounts owed will be posted to the Owner's account. This includes, but not limited to, costs for certified mailings, costs to physically post a notice, recovery of Attorney's fees, and any translation of a notice to a language other than English.
Owners with outstanding balances will be sent a monthly statement by first-class mail to the address provided by the owner (please be sure to keep the HOA updated with your current mailing address of choice). As a reminder, monthly statements are not automatically sent to all owners each month. Please make a note of your due date and arrange to satisfy your assessment on time.
The HOA may turn over a delinquent account to a collection agency or refer to an attorney after sending a copy of delinquency notice by certified mail and posting a notice to the owner's unit in the HOA, sending a notice via first-class mail, and (optional) via text or call or email.
---
Water Purchase Contact Info
Posted 04/19/22
The Palmer Divide Water Company (PDWC) still has water rights available for sale for those King's Deer owners that are interested to increase their annual water allocation. The current price is $8500 for one additional unit, which after being attached to your well permit, would bring the annual usage allowance to .75 acre-feet or 244,388 gallons. Owners that are interested in purchasing or have any questions regarding the sale of additional water rights, should send an email or text message to the PDWC representative, Bart Atkinson, at 719-321-3847 or bart@actionteamco.com
---